42% More New Homes Began Construction in 2021 than 2020
The Department of Housing, Local Government and Heritage has published Commencement Notices data for December 2021. Overall in 2021, Commencement Notices for 30,724 new homes were received, a 42% increase on 2020 (21,686 homes). The 2021 total is almost the same as the combined totals for 2016 and 2017 (30,816).
With the exception of 2020, when significant restrictions on home-building existed due to the Covid-19 pandemic, the number of residential homes for which Commencement Notices were received has increased every year since 2015 (the earliest year for which comparable data is available).
Commencement Notices for 1,736 new residential homes were received by Building Control Authorities in December 2021. This represents a 12% on December 2020 (1,549 units). Commencement Notices data indicates the number of homes on which construction commenced in any given month.
42% More New Homes Began Construction in 2021 than 2020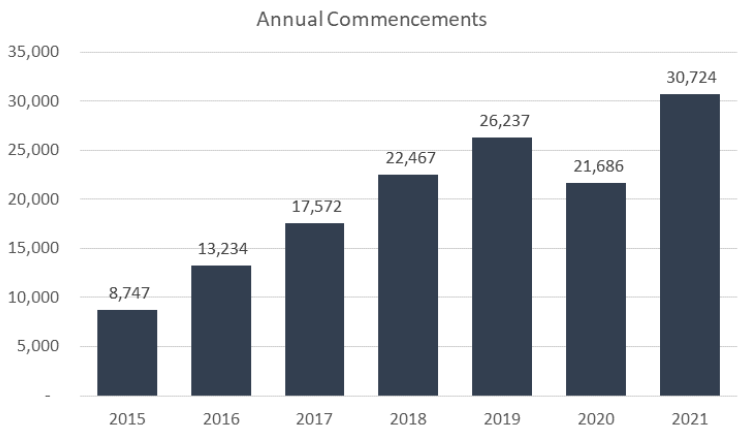 Image: Commencement Notice Data
A Commencement Notice is a notification to a Building Control Authority that a person intends to carry out either works or a Material Change of Use to which the Building Regulations apply. The notice must be given to the authority not more than 28 days and not less than 14 days before the commencement of works or the change of use. Once validated by the building control authority, works must commence on site within the 28 day period.
Stay up to date with the latest from Construction Jobs Expo