Glenveagh has been announced as main sponsor of Construction Jobs Expo 2023, taking place at the RDS, Dublin on Saturday, May 13th, 2023. Glenveagh is recruiting for Engineers, Site Managers, Foremen, Quantity Surveyors and much more - meet the Company's Talent Acquisition team who'll be present at the event from 10 am to 4 pm.
About Glenveagh
As one of Ireland's leading homebuilders, Glenveagh is focused on delivering high quality homes in flourishing communities. We achieve quality and greater accessibility to new homes by relentlessly innovating the way we plan design and build.
Working for Glenveagh Properties is exciting, challenging and incredibly rewarding. We're using advanced technology and cutting-edge construction methods to create quality homes in communities across Ireland. When we look for people, we look for agile, innovative, passionate people to join our expanding team. Our talented people are the drivers of our success, and we invest in their skills, progress, safety, health, and wellbeing. We work as one collaborative team, ensuring that everyone feels welcome, valued, and empowered to express their ideas. We are currently hiring across a number of areas within the business to include: Site Managers, Finishing Foreman, Trades Foreman, EHS Advisors, Site Engineers & Site Administrators.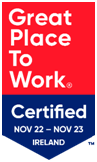 For more details on the Construction Jobs Expo, or to register your place, check out www.constructionjobsexpo.ie.