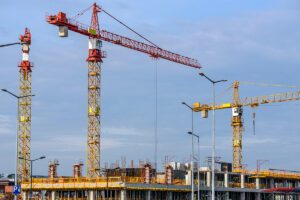 Find careers in construction here in Ireland and abroad at the Construction Jobs Expo this November 14th 2020 at Citywest Convention Centre.
Construction Job Expo is Ireland's new jobs and employment fair, putting construction workers directly in touch with employers in the Industry in Ireland. The Construction Jobs Expo has been formed out of a demand for skill construction workers to meet key skill shortages over the coming years, as the Irish construction industry continues to gather pace.
The Construction Industry Federation expects that up to 112,000 jobs will be created between now and 2020 in order to complete an estimated €17.8bn worth of projects ready to go from next year. Key requirements will be:
• 30,800 carpenters and joiners
• 15,200 electricians
• 13,900 plasterers and tillers
• 11,800 plumbers
• 9,400 painters and decorators
• 7,800 bricklayers
Construction Jobs Expo will take place in Dublin this May and will be free to attend for construction industry professionals. It will be run by Careers Unlimited, operators of the Jobs Expo Ireland fairs, which take place twice-yearly in Dublin, Cork & Galway.
If you're a job-seeker looking for new opportunities, click here to register for our upcoming events.
Jobs Expo is operated by Careers Unlimited, a wholly Irish-owned events and publishing company. More information about Careers Unlimited is available here. We've partnered with BCS Recruitment and can also offer candidates and employers a recruitment service. For for more information about BCS, click here.